5 FACTS ABOUT EXERCISE THAT WILL BLOW YOUR MIND
1. It's good for the brain
Exercise is not only good for physical fitness, but it also stimulates the growth of new brain cells.
2. It slows down aging
Exercise is known to slow down the process of aging.
3. It makes the skin healthier
The pores of the skin that are often blocked by dead cells and debris are cleared when you sweat during exercise.
4. It improves sleep quality
Research shows that exercising can help you fall asleep faster and improve sleep quality.
5. It boosts confidence
Exercise gets you in shape and releases endorphins, which can boost your confidence levels immensely.
WHY ANTHOLOGY LOVES HEALTHY AGING MONTH
It reminds us to stay healthy
We often get so caught up with our daily routine that we forget to take care of ourselves. This month reminds us of the importance of following a healthy lifestyle to ensure we age comfortably.
It gives us a chance to develop a new skill
Healthy Aging Month is an opportunity to learn new skills. Whether it is a sport that you've always wanted to play or include healthy dishes in your diet. This is the perfect time to make sure you have a well-balanced lifestyle.
It gives us a chance to expand our knowledge
This month allows us to read and expand our knowledge on health and nutrition. Knowledge is power, and it is important to take charge of our lives with all the information we need to do the right thing and keep ourselves on track.
CELEBRATING NATIONAL ASSISTED LIVING WEEK!
September 11 – 17 is National Assisted Living Week (NALW) and Anthology is proud to recognize the essential role of assisted living in caring for older adults across the country.
This year's NALW theme – Joyful Moments – honors the assisted living staff, communities, residents, and families that come together as a large extended family to create joyful moments and special memories together. After the challenges of the past two years, this theme is especially meaningful in encouraging everyone to find happiness, joy, and fulfillment in both the big and small moments in life.
RECENT HAPPENINGS!
Charles Schultz said it best when he said "happiness is a warm puppy." We've gotten lots of puppy snuggles recently in both Assisted Living and Memory Care!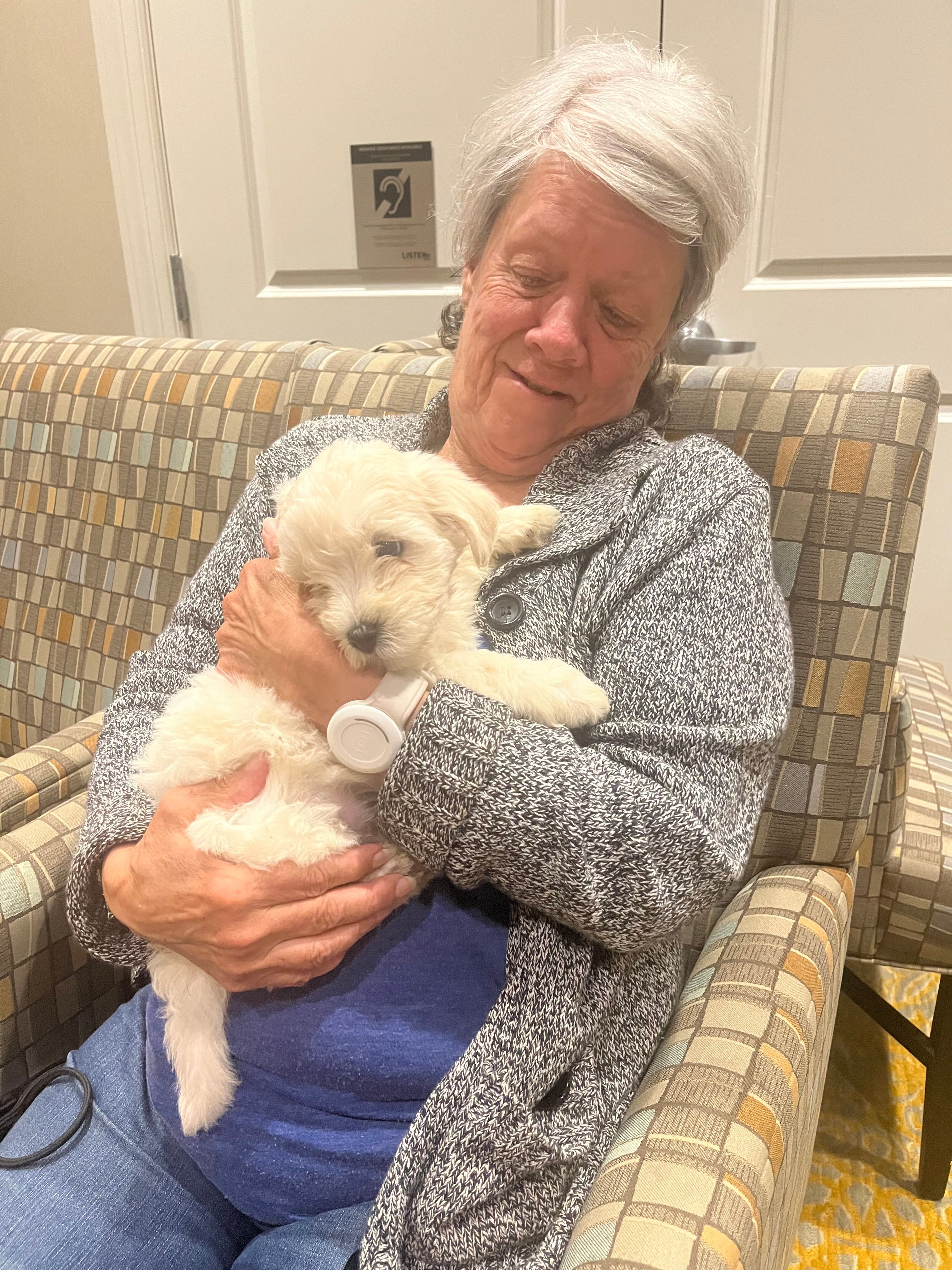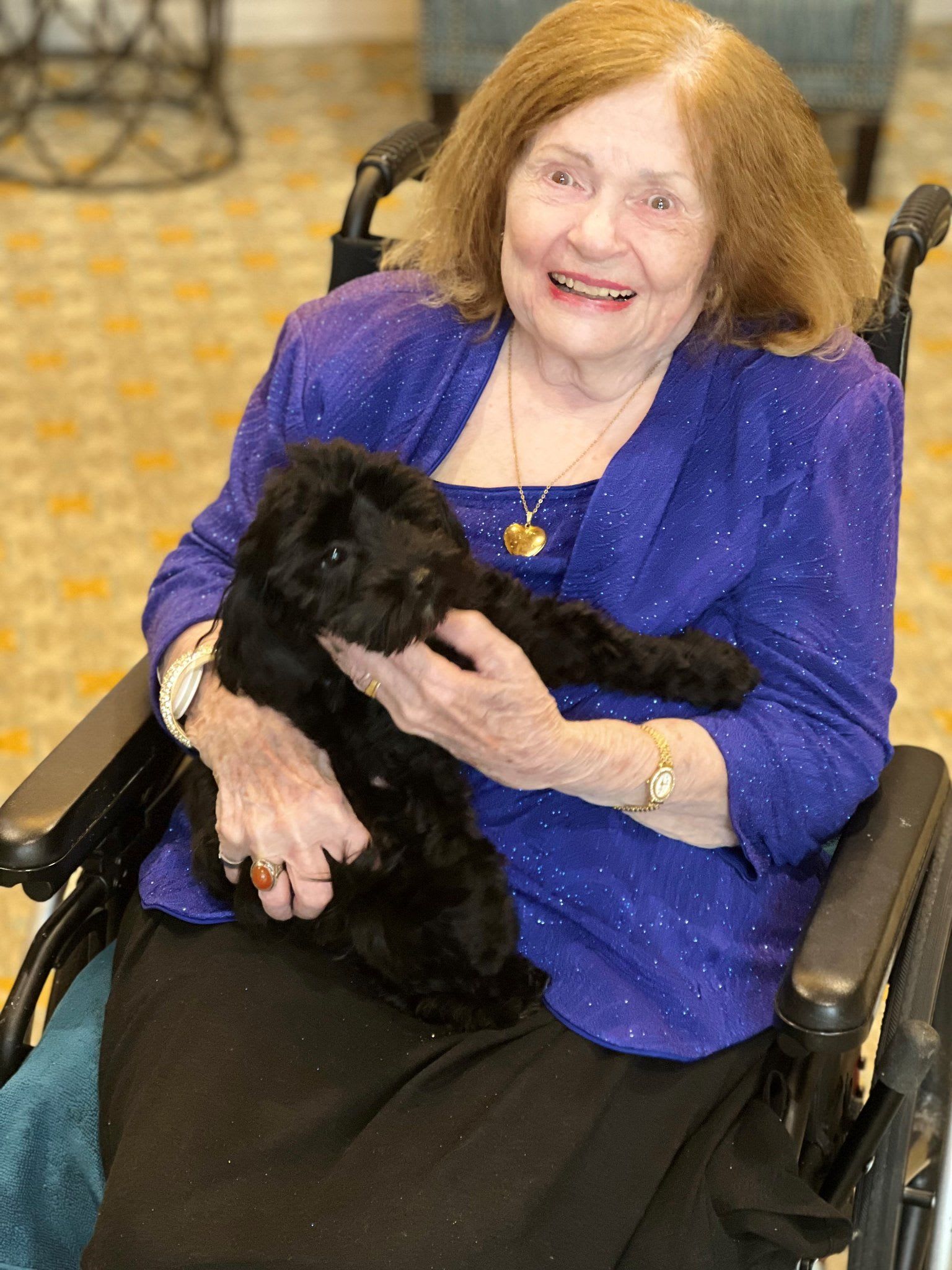 COMING UP!
We are continuing our monthly Wednesday Wine Tasting and Lecture Series in Assisted Living with our friends from Uncorked and Decanted. August's topic was about Thomas Jefferson, titled "Jefferson's Monticello," and paired with a Columbia Crest H3 Merlot from Washington State. September's topic is about the Truman's, titled "Harry and Bess," and paired with a Wente Morning Fog Chardonnay. A tasty and educational way to "Wine Down Wednesday!"
Grandparent's Day is Sunday, September 11. We encourage the grandchildren (and great grandchildren) of our residents to reach out and make that day special for them! If you have a card, poster, or sign that you want hung for your grandparent on that day – let us know and we will get that done!
FALL FUN!
We are in the planning stages of fall festivities and would love to hear from you! We encourage everyone to share their ideas for events or activities with our Activities Director so that we can bring even more fun entertainment to our residents.
Sincerely,
Lisa Barnes
Executive Director, Anthology of Overland Park