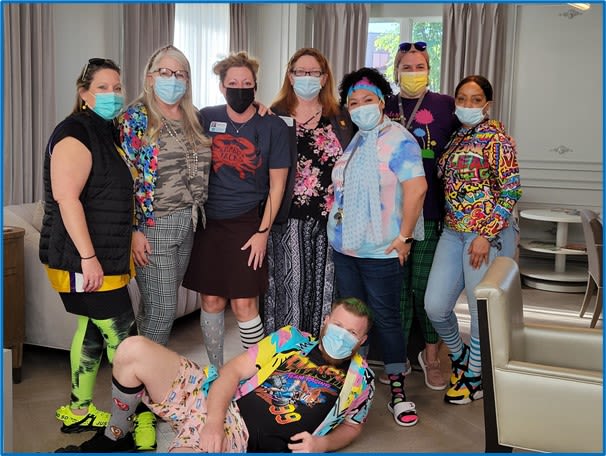 May Activities
Our calendar of events and activities offers a bright spectrum of opportunities designed to inspire curiosity, encourage participation, and infuse joy into every day. Do you have an activity or hobby that you're interested in but don't see it on the calendar? Let us know! We are always receptive to new ideas, whether that means a specialty craft workshop, visiting a new destination or a community volunteer opportunity.
Calendar Highlights!
May 16: Food & Wine Pairings
May 11, 18, 15: Live Entertainment!
Thursday Outings: We're going to the KC Library and Nelson Atkins Museum of Art as well as Brio, an Italian restaurant for lunch
REFERRAL BONUS!
Residents and families that refer a friend who moves to Anthology of The Plaza will receive a $3,000 rent credit – $1,500 when the new resident moves in and another $1,500 90 days post move in!
May is National Mental Health Awareness Month
After the last two years of pandemic living, many people are realizing that stress, isolation, and uncertainty have taken a toll on their long-term well-being. At Anthology, we are proud to offer teams and programs committed to the mental health of our residents. Through the COVID-19 pandemic, we have educated our associates even more and continue to grow our mental health programming and care. For anyone struggling, reach out for support. We are always here for you.
National Senior Health & Fitness Day
Put on your sneakers for National Senior Health & Fitness Day. On May 25, approximately 100,000 senior adults will participate in activities across the United States for this national observance. Staying active is actually one the best things you can do for your mental health. Yoga, walking and swimming are all low impact routines that offer a range of benefits for all abilities. Some of the benefits include:
Reduce fall risk
Maintain strength, healthy joints and muscles
Helps reduce or control blood pressure
Reduce the risk of colon cancer and diabetes
Ease symptoms of depression and anxiety
Reduces and prevents arthritis joint swelling and pain
Make a choice to try something new this month and attend a fitness class you haven't tried yet at the community. Meet new friends and have fun!
As always, please reach out with any questions, and I will continue to update you by email.
Sincerely,
Lee Ann Meiss
Executive Director, Anthology of The Plaza