We are looking forward to the cooler temperatures that September brings and peaking back at the wonderful events from August. But first did you know that September is Healthy Aging Month? People celebrate this month by incorporating habits like exercise, eating healthy food, and getting enough sleep into their daily routines. It is also a day for encouraging others to stay active and take steps to improve physical and mental health.
5 FACTS ABOUT EXERCISE THAT WILL BLOW YOUR MIND
1. It's good for the brain
Exercise is not only good for physical fitness, but it also stimulates the growth of new brain cells.
2. It slows down aging
Exercise is known to slow down the process of aging.
3. It makes the skin healthier
The pores of the skin that are often blocked by dead cells and debris are cleared when you sweat during exercise.
4. It improves sleep quality
Research shows that exercising can help you fall asleep faster and improve sleep quality.
5. It boosts confidence
Exercise gets you in shape and releases endorphins, which can boost your confidence levels immensely.
WHY ANTHOLOGY LOVES HEALTHY AGING MONTH
It reminds us to stay healthy
We often get so caught up with our daily routine that we forget to take care of ourselves. This month reminds us of the importance of following a healthy lifestyle to ensure we age comfortably.
It gives us a chance to develop a new skill
Healthy Aging Month is an opportunity to learn new skills. Whether it is a sport that you've always wanted to play or include healthy dishes in your diet. This is the perfect time to make sure you have a well-balanced lifestyle.
It gives us a chance to expand our knowledge
This month allows us to read and expand our knowledge on health and nutrition. Knowledge is power, and it is important to take charge of our lives with all the information we need to do the right thing and keep ourselves on track.
CELEBRATING NATIONAL ASSISTED LIVING WEEK!
September 11 – 17 is National Assisted Living Week (NALW) and Anthology is proud to recognize the essential role of assisted living in caring for older adults across the country.
This year's NALW theme – Joyful Moments – honors the assisted living staff, communities, residents, and families that come together as a large extended family to create joyful moments and special memories together. After the challenges of the past two years, this theme is especially meaningful in encouraging everyone to find happiness, joy, and fulfillment in both the big and small moments in life.
We will celebrate NALW with Live Music (three times that week), a Resident Staff Mingle Cookout Lunch, a luau with live music, raffles, and little treats throughout the week. Plans are still in the works.
RECENT HAPPENINGS!
Thank you to all who have contributed to our Walk to End Alzheimer's team! So far, we've raised just over $2,500 or about half of our $5,000 goal. A big shout out to Annette who continues to find fun and exciting ways to contribute, including our recent bake sale which raised more than $400. The Walk is on October 3 at Sawyer Point. More information to follow if you'd like to participate.
Live entertainment for August included, Jeanne Bilyeu (Sing Alongs), Wild Carrot Trio, Eddie Osborne, Beauty and the Beat and Jeanne Phillips.
Violin Students visited the community on Sunday, August 21 to share a recital with us. We had a FULL house, and the residents had a lovely afternoon.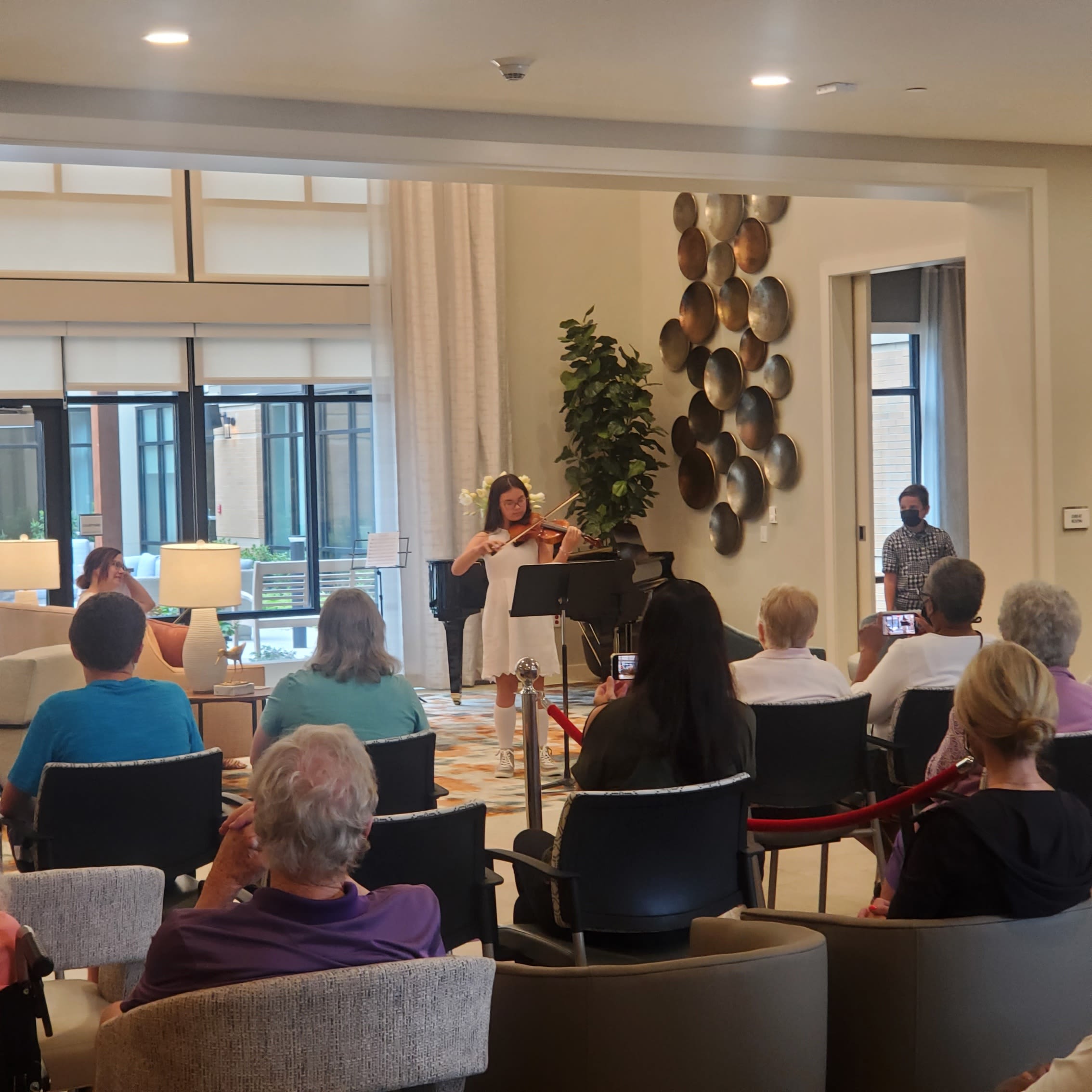 One of the Something Crafty Projects with Annette, were the boutonnières and corsages for the Senior Prom.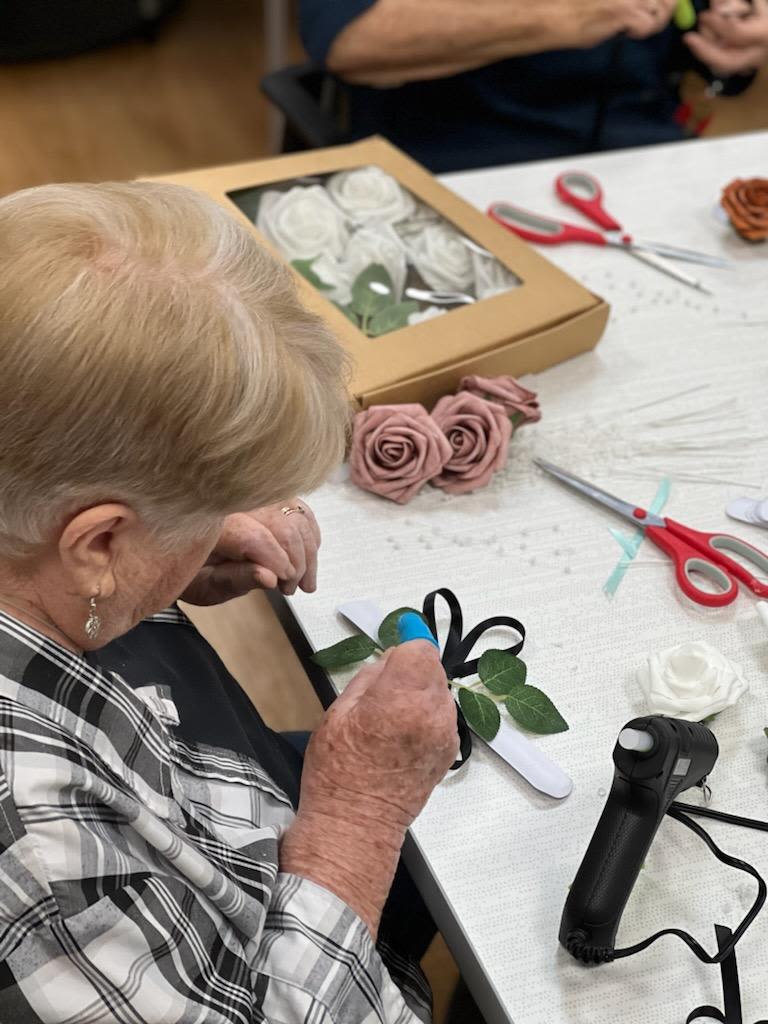 Aviation Day, what a BLAST! Speakers, Balsa Plane Races, puzzles, movies, Happy Hour with Wine "Test Flights", live music and raffles.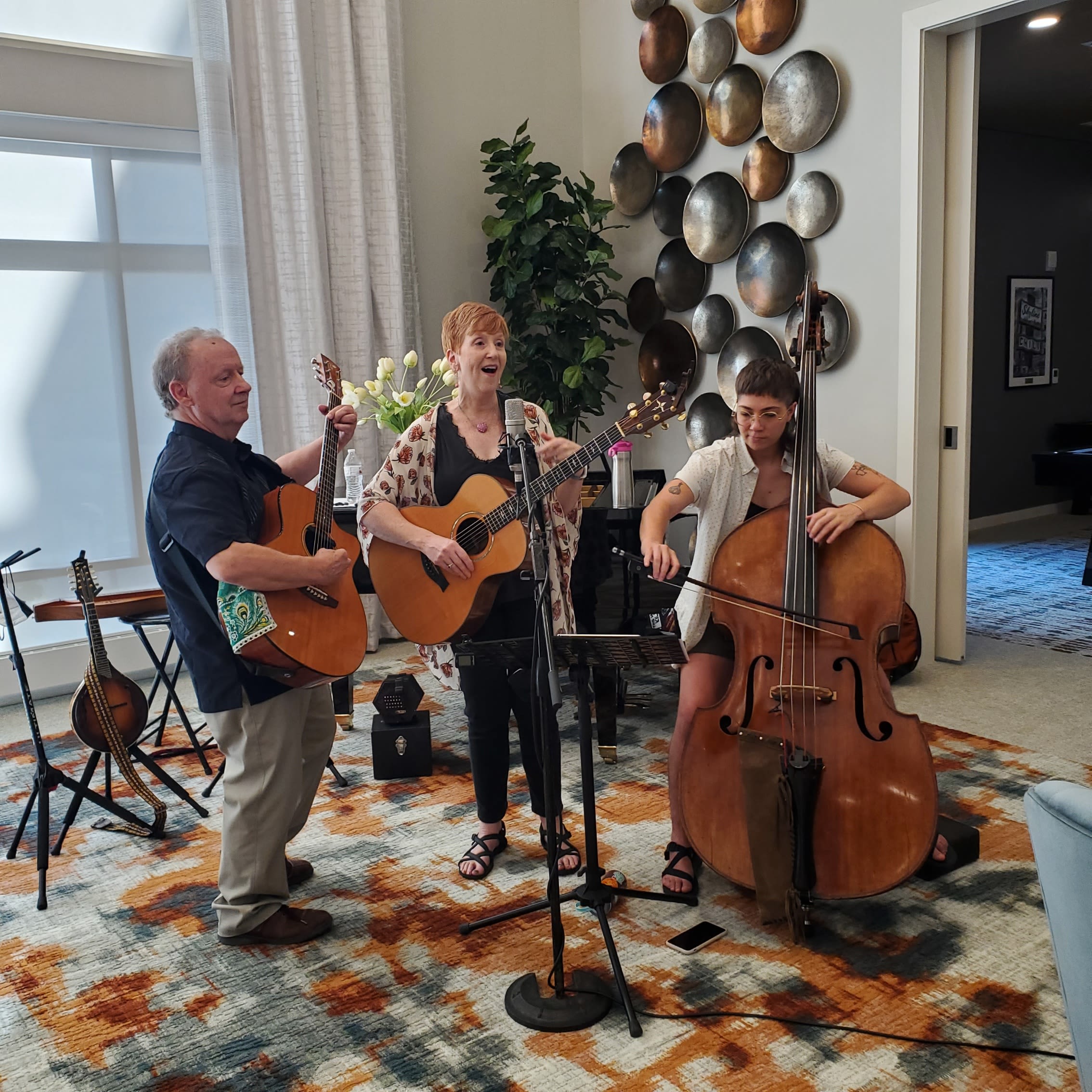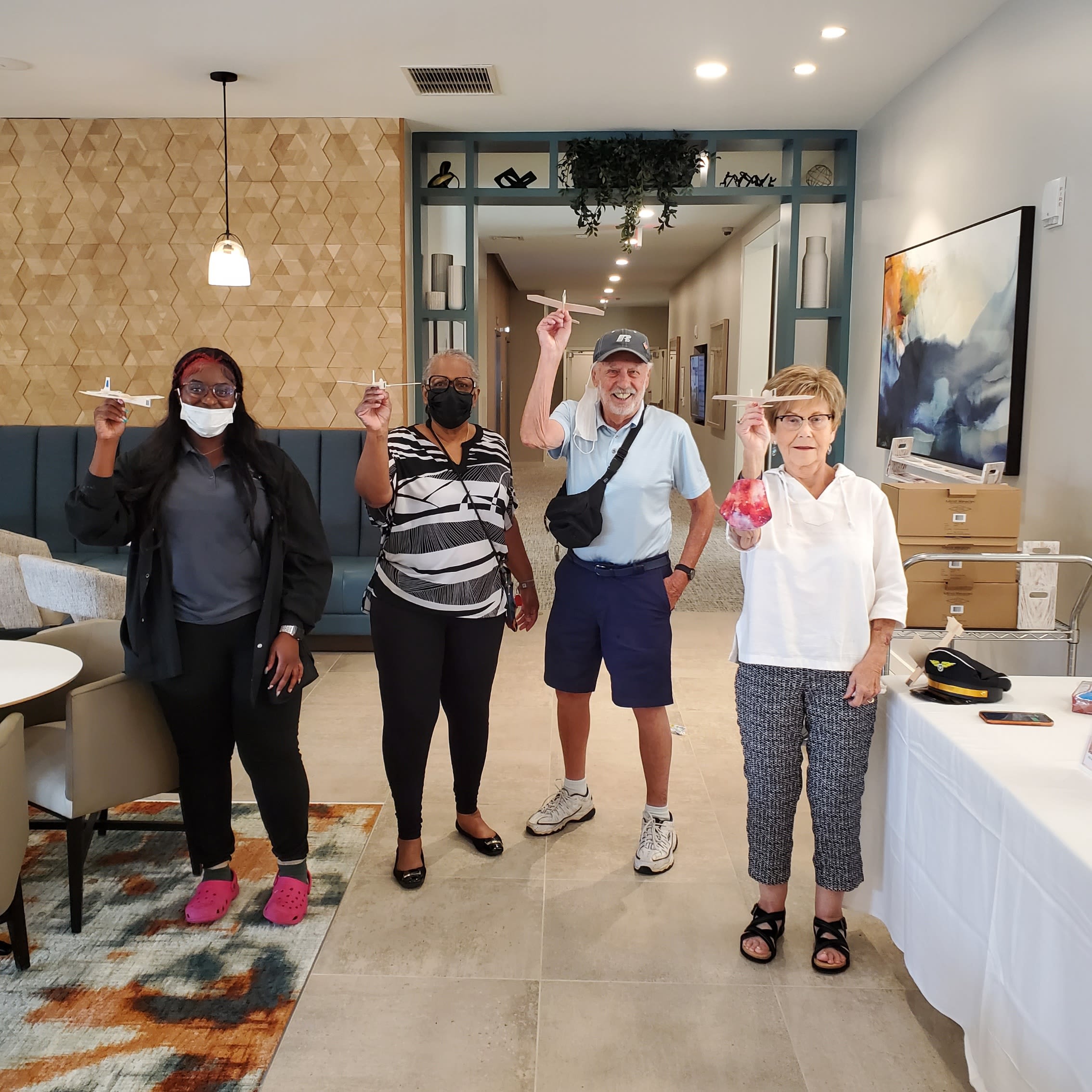 Two therapy dogs now visit our community each Tuesday. Primarily to visit with our Memory Care residents but they are happy to linger throughout the community and share some love.
COMING UP!
In September Rob Lowe, Denny Duvall, Stan Ginn, the Jeanne Gogh Quartet and Wild Carrot will be offering performances.
Grandparent's Day is Sunday, September 11. We encourage the grandchildren (and great grandchildren) of our residents to reach out or visit and make that day special for them!
September brings Diane Shields to our Community for Live Lectures, offered twice a month. September 1, the lecture will be about Dr. Isaac Salk (Polio) and September 15, Douglas MacArthur. We are excited to have this local historian on the calendar!
The Anthology Senior Prom is scheduled for September 19 with the Jeanine Grogh Quartet serenading us. Our casino themed night of fun will have our residents looking their best and sporting their wrist corsages (resident made) and boutonnières (also resident made).
FALL FUN!
We are in the planning stages of fall festivities and would love to hear from you! We encourage everyone to share their ideas for events or activities with our Activities Director so that we can bring even more fun entertainment to our residents.
Sincerely,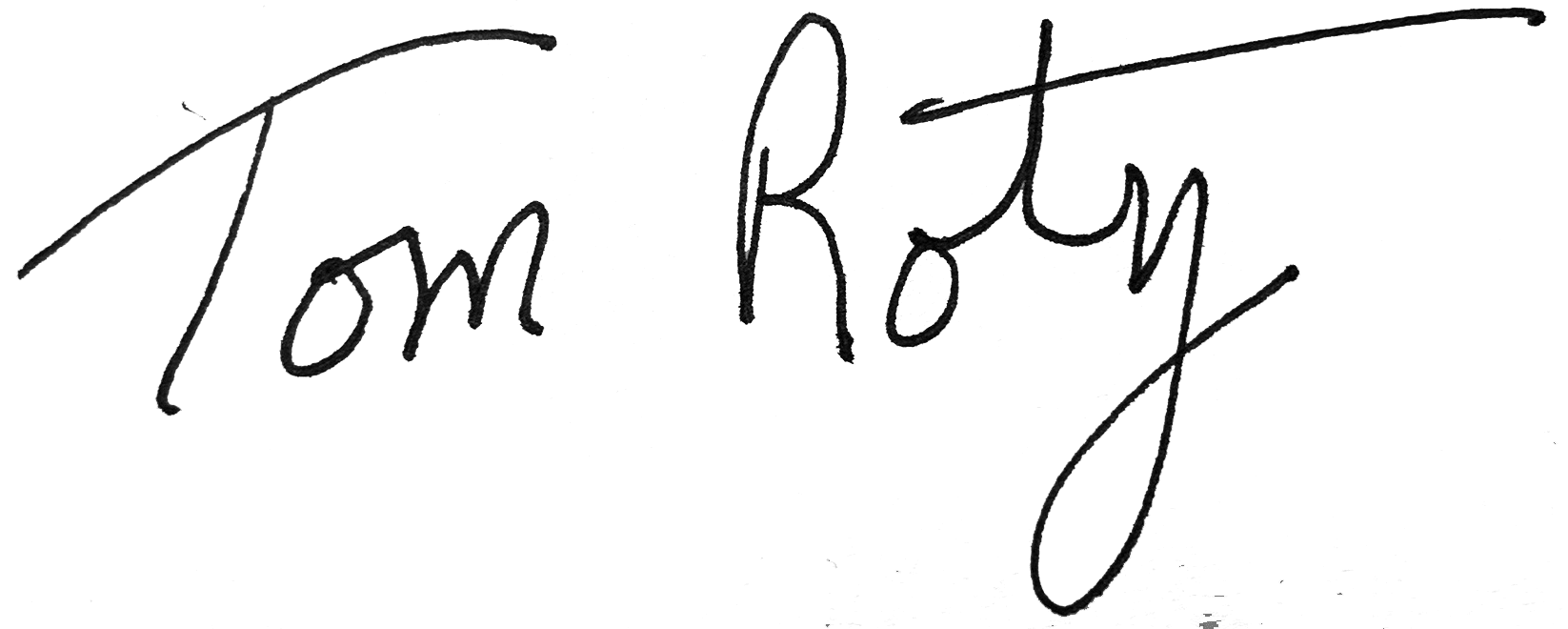 Tom Rotz
Executive Director, Anthology of Blue Ash