Anthology Senior Living's response to COVID-19 / APRIL 7
April 07, 2020​
To our residents, resident families and team members:​
As we continue to navigate the COVID-19 pandemic, I want to provide an update on the precautionary measures we have put in place at all Anthology Senior Living communities, as well as additional steps we are taking to ensure the health, safety and wellbeing of our residents and team members. 
Our goal is to minimize the transmission of this virus within our communities.  As such we have taken the following steps:
Enacted a 14-day admission ban – to ensure that residents from outside our community do not bring the virus into our communities
In-room quarantine – while not ideal this protocol nearly eliminates resident to resident transmission
PPE Protocol – team members are required to wear facemasks whenever with a resident.  In the event that a resident is suspected to have COVID-19, usage of a mask, gown, and gloves are required, and the PPE used while with that resident is immediately disposed of. The CDC recommendations and guidelines regarding use of PPE are adhered to at all Anthology Senior Living communities. Despite worldwide shortages of PPE, we have been able to source an ample supply through very large bulk orders
Visitor Ban / Screening – only essential visitors are allowed to enter our communities and each visitor or team member is subjected to a screening protocol which includes a COVID-19 screening questionnaire and must pass a temperature screen prior to entry
Resident Temperature Check – all residents have their temperature checked twice a day at nearly the same time. If a fever is detected the primary care provider is immediately notified
Team Member Appreciation – we have increased the hourly wage and expanded the PTO benefits for our team members to show how much we appreciate them.  We in turn request our team members to pass the appreciation along to our residents
Our team members are also focused on keeping our residents engaged and active. As many of us shelter in place and may feel socially isolated, the same applies to our residents. Our Socially Distanced Engagement Program is underway at our Anthology Senior Living communities. This plan includes three daily activities that focus on the mind, body and spirit to keep residents mentally stimulated, physically active and engaged. A mind, body and spirit activity are delivered along with residents' meals each day during the in-room quarantine period. As part of the program, we have distributed distance supply kits containing arts and craft supplies, puzzles and light exercise equipment to residents, and kicked off Day 1 with concentration puzzles, Theraputty hand exercises and adult coloring sheets.  Further, residents are encouraged to schedule time during the day to take a walk outside or visit the gym to exercise – we provide oversight from a safe distance.  For the assisted living residents that opted in, we have purchased Amazon Echo Dots to allow residents easy access to news, weather, and other general topics.  We piloted the Amazon Echo Dot program at our community in Pittsburgh and found it to be a big success.  We continue to think of ways to promote safe resident engagement during this situation.   
We understand the hardship that not being able to visit a loved one can cause. The outpouring of support provided to our community is so appreciated. We encourage you to keep the lines of communication open through phone, e-mail and video calls, as we continue to explore ways to keep our residents and families connected. 
We will continue to post updates on our website at  ​www.anthologyseniorliving.com and through email to keep you updated. Should you have any additional questions, please do not hesitate to reach out to the community Executive Director or email our corporate team at  information@anthologyseniorliving.com.
We want to acknowledge all of our Anthology team members with our most heartful thanks and utmost appreciation for continuing to deliver the same high-quality care and service to our residents during this stressful time. To our residents and family members, we are continually grateful for you for entrusting your loved ones in our care. The safety of our communities is our top concern and we are committed to ensuring the health and wellbeing of all our residents, team members, care partners and resident's families as we move through this challenging time together. 
Sincerely,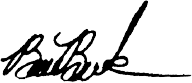 Benjamin Burke 
President, Anthology Senior Living