National Women's History Month is a celebration of women's contributions to culture, history and society. The National Women's History Alliance selects a yearly theme for National Women's History Month. The theme for 2023 is "Celebrating Women Who Tell Our Stories." This theme puts the spotlight on women in the past and present who have been active in storytelling across all mediums.
Celebrating Life Stories
The communities of Anthology Senior Living marked International Women's Day by celebrating the amazing team members and residents who are part of the Anthology family. We've been highlighting women's stories from our communities in our blog and will continue through the month. 
Anthology of Farmington Hills
At Anthology of Farmington Hills, celebrating women and sharing life stories included the story of Jean. Jean raised her son as she began her career as a kindergarten teacher. After her retirement from the Detroit Board of Education, Jean began to venture into art. She enrolled in classes taught by several Detroit-area artists and soon discovered her natural talent and love of art. Jean has won many awards, ribbons, medals and certificates as a solo artist. Her wide variety of artistic creations, many of which are chronicled in her book "Intriguing Artistic Expressions," truly reflect her deep spiritual connection to God and nature. 
The life stories continued as the Farmington Hills community shared memories with Mary Ellen. Mary Ellen's contributions and accolades are too extensive to list. To name a few, she served as president for six years for the Friends of the Polish Arts and executive vice president for the Polish American Congress. She has held various positions with the American Council for Polish Culture, including first and second president, as well as director. Mary Ellen is an honorary alumna of Orchard Lake Schools and was named "Woman of the Year" in 2009. She is a retiree of Blue Cross Blue Shield of Michigan, where she held multiple management positions. One of her greatest experiences was personally meeting Pope John Paul II in the Vatican in 2003. 
The International Women's Day celebration also included telling stories of Jean. After graduating from Mt. Pleasant High School, Jean began her career as a bank teller at Bank of America. Upon relocating to Lansing, Jean worked as a secretary for Firestone. While in Lansing, she met and married her husband, Jim, and they later welcomed their daughter, Krista. With just a high school diploma, Jean was ultimately promoted to Accounts Payable Manager, leading a team of more than 60 employees at Oldsmobile. Jean enjoyed boating on the Seagull and often traveled to Mackinaw. The sign on Jean's apartment door reflects her attitude toward life – "Happy People Only."
Anthology of King of Prussia
The team and residents at Anthology of King of Prussia came together to celebrate International Women's Day with life stories and reminiscing about the past. Ann endears herself to everyone with her personality and winning smile! She is the mother of six children, all of whom obtained a formal college education. Her children and her dress store are her proudest achievements! Ann owned a women's dress shop for 27 years. Her shop, located in North Philadelphia, catered to the needs and styles of the neighborhood residents and was a success until she retired and closed the doors. She was encouraged by Eleanor Roosevelt; she is an influencer, leading others by her example of excellence. Ann supports women who encourage each other, and she wants women everywhere to become the best that they can be and to be positive role models and examples.
Sharing Anthology women's stories continued with the story of Janet. Janet wins the hearts of all she meets! Janet grew up in Massachusetts but was born in Baltimore, Maryland. She is the mother of three children and a proud grandmother. A former corporate lawyer, Janet was employed by several prestigious companies, two of which she noted as Conrail and the Environmental Protection Agency. Public policy was her area of interest, and she helped many people obtain education. Janet was a swimming instructor and lifeguard for many years, weekly taking part in several ASL events and is known as an avid and expert swimmer. Another hobby of interest is hiking, which she said was a source of relaxation and exercise. She has a great influence at present, as all agree that she is a great listener and engages in conversation with great compassion. Janet believes in women encouraging each other and giving back. She feels that, although achieving personal and financial goals is important, having money does not guarantee happiness! Her message to younger women is to learn and practice independence. 
The community also celebrated Shirley. Shirley possesses a powerful presence and is most assuredly a people person. She was born in Delaware County and later grew up in an 1820s villa farmhouse near West Chester, Pennsylvania. She met her husband while sitting on a front porch in Brandywine, and the rest is history! They were married for over 60 years. Shirley is the proud mother of four – two daughters and two sons. During her child-rearing years, she achieved both a bachelor's and a master's degree, which she used in her years of teaching as a reading specialist. Her inspiration to achieve and excel was instilled by her mother and those who paved the way for women's rights, in particular, the right to vote. Shirley influences others by sharing her appreciation and love of reading, her philosophy and focus on what is right. It is important for women to lift each other up. For Shirley, marriage (the way of approaching it and not just the wedding day) is a message she would share with younger women. Shirley is convinced that negotiation is the key to a successful marriage.
Anthology of Midlothian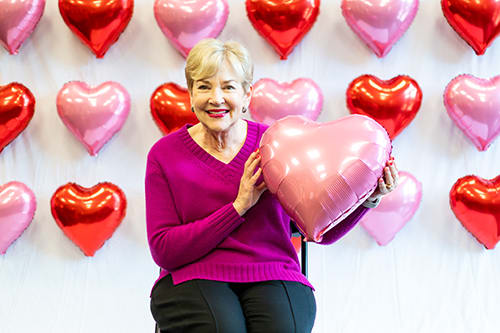 Anthology of Midlothian celebrated International Women's Day by honoring and showcasing the life of a very special Anthology woman. Anne Rainey Sims was born in Richmond, Virginia in 1948. She grew up not far from Monument Avenue and attended Mary Munford Elementary School, where her mother was a teacher. As a child, Anne loved clothes (she loved going shopping with her mother at Miller & Rhoads and Thalhimers), school and good food. Her mother made some of the tastiest foods in the Richmond area, particularly her fried chicken and lemon meringue pies. Anne loved a good limeade—made with plain, not carbonated, water of course—from Bill's Barbecue. She never missed a visit with the Miller & Rhoads "real Santa" and the Snow Queen during the Christmas season. Anne also forged lifelong friendships in her youth. She has known her best friend, Sally Forb, for more than 70 years and still stays in touch with her close friends from high school, affectionately known as the "Mag 7." 
Sadly, tragedy struck the Sims family early in Anne's life. When Anne was five years old, her father suffered a heart attack at home and died in front of Anne. Anne's mother, Katherine, refused to let this horrific event stand in the way of Anne and her older brother Hunter's happiness and success. As a single parent and educator, Katherine taught her children that education, hard work and kindness were the keys to self-empowerment. Anne took her mother's teachings to heart. She would go on to graduate from Thomas Jefferson High School near the top of her class and earn her undergraduate degree from the College of William & Mary. 
Anne later obtained a master's degree from VCU and an advanced certificate in leadership from William & Mary. Anne followed in her mother's footsteps and dedicated her life to educating children. She would rise to become the supervisor of English for all Richmond City Public Schools. There, she met her future husband, Dave Williams, a city high school principal. Anne eventually became an administrator, serving in Chesterfield County as a principal at A.M. Davis Elementary and Robious Elementary, respectively. Anne retired after 41 years as a teacher, reading specialist, language arts supervisor and principal. Following her retirement, Anne served as an adjunct professor at the University of Richmond, mentoring and inspiring Virginia's future educational leaders. Anne received numerous awards during her career, but her overarching goal was to always help children be the best they could be. 
Dave and Anne's interracial marriage was neither common, nor regularly accepted, in Richmond, and the couple often took steps to hide their love for one another from their close friends and colleagues. But their love was never a secret to their only child, Brendan. Anne and Dave reinforced in Brendan that people should be judged by their actions—not what they look like—and to treat others as you want to be treated. Anne and Dave's marriage lasted nearly 40 years until Dave passed away in 2015. 
Cooking was one of Anne's passions. Even after long days at work and time spent helping Brendan with his homework or attending one of his athletic events, Anne always seemed to stir up a made-from-scratch culinary masterpiece for her family. From homemade ravioli to crab cakes; from brown sugar bourbon ribs to marinated lamb chops; from her mother's lemon meringue pie to the best chocolate chip cookies you've ever had, if it could be fried, sautéed, grilled or baked, Anne could serve it up. The pride and joy of Anne's life are her two grandchildren, Andrew (13) and Katie Grace (9), and her mini-Australian shepherd, Sandy. 
Anthology of Tanglewood
At Anthology of Tanglewood, the community came together to celebrate women by sharing life stories of three of their own.  Sandra has worked at Anthology of Tanglewood as the head of housekeeping for two years. She has faced many tragedies over the last few years but hasn't let it affect her spirit. In 2022, Sandra lost her loving husband of many years to COVID and then her son only two months later. Additionally, she lost her other son unexpectedly eight years ago. Sandra keeps their spirits alive by coming to work every day with a smile on her face. Her favorite thing about being a part of the Anthology family is having the opportunity to make a difference in our residents' lives through small acts of kindness every day. 
The Tanglewood community also spent time reminiscing with Okie. Okie had a long career as a public-school teacher and a district-wide crisis counselor. As a licensed professional counselor with two state licenses in alcohol and drug abuse, she worked with children and their parents in the court system and used art therapy with families in hospice and Shriners Children's Hospital in Galveston. After retirement, Okie made the decision to pursue her interest in art full-time, benefiting from the instruction of well-known artist Mark Greenwalt's classes even to this day. Okie recently had several pieces of art selected to be displayed in the Library of Congress! 
About Anthology Senior Living
The mission of Anthology Senior Living and all its communities is to provide a unique senior living experience that supports residents with the best possible care and hospitality. Our entire team is committed to making a difference in the lives of others, from offering the best possible nutrition and meal choices to providing various activities and entertainment options and ensuring residents have access to the necessary resources for happy, healthy living. 
Interested in learning more about Anthology Senior Living? Contact us today to find out more about our communities and our resources! Want to locate an Anthology community near you? Use our community finder tool!