Living an active and engaged lifestyle is encouraged at any age. The good news is that today's seniors have an abundance of opportunities to enjoy a more fulfilling lifestyle. Did you know that senior living communities provide a variety of daily life enrichment activities that encourage social connection? Not only do they help you find more purpose in each day, but life enrichment activities also improve quality of life. Many seniors say that participating in life enrichment activities is one of the main reasons they decided to move to a senior living community. While these programs and activities might seem like a luxury, they really are a necessity.
 
What Life Enrichment Looks Like at Anthology Senior Living
At all Anthology Senior Living communities, daily engagement encourages residents to bond with loved ones, build new friendships and explore new passions. Designed around our core philosophy and using our six dimensions of wellness, the Elements Life Enrichment program truly nurtures full mind, body and spirit. Whether participating in a group fitness class, joining other residents for an off-site excursion or playing a poker game, new Elements experiences keep residents energized and encourage them to make the most of every day.
Why is social connection important? What are the benefits of social interaction for seniors? Maintaining connections with others as you grow older offers many benefits, such as:
Boosts Physical Health: Regular social activities offer an array of physical benefits, such as reducing pain, boosting your immune system and lowering blood pressure. Increasing social interaction may also result in becoming more physically active, which offers additional health benefits.
Improves Mental Health: Participating in social gatherings for seniors and feeling connected to others can reduce stress and anxiety, lower the risk of depression and lead to a longer life. Social connection can also provide a sense of belonging, which contributes to self-esteem.
Increased Longevity: Staying connected with friends and loved ones may help you enjoy a happier, longer life, according to recent studies.
Boosts Brain Health: Socializing involves staying engaged and participating in conversation. Remaining socially active improves cognitive function and may reduce the risk of dementia and Alzheimer's disease.
 
Fostering Connections
One of the greatest benefits of living at an Anthology community is the opportunity to interact with and enjoy others. Our communities offer a wide variety of recreational activities that encourage residents to socialize and connect with one another. Whether playing a spirited game of cards, attending the weekly book club, listening to live entertainment or trying a new cafe for lunch, the goal is to develop new and lasting friendships and enjoy an active lifestyle.
At Anthology Senior Living, residents enjoy a variety of choices of activities, arts and crafts, and exercise programs. They also have the chance to participate in fun events planned by the communities. Recently, all Anthology communities across the United States hosted their very own Senior Prom for residents and their families to enjoy. Senior Prom showcased activities that allow residents to experience community programming that nurtures the whole person – mind, body and spirit. Highlighting the power of laughter, music and other activities to enrich residents' daily lives, Senior Prom at Anthology was a hit among residents.
 
Senior Prom 2022
Anthology of Stonebridge Ranch went way out with an "Out of This World" Space Prom. Prior to the event, residents made their own tinfoil hats to protect them from the aliens, and the community even hosted a fashion show showcasing the different styles of hats. Live entertainment included music from Tony Macaroni, and the snack chosen by residents was Planetary Pizza.
While some communities hosted Senior Prom, others hosted Casino Night – or a combination of both. Residents at Anthology of Mayfield Heights had a fun night filled with poker, blackjack, roulette, craps and more! Residents were even able to use the tickets they won to put toward raffle baskets. Senior Prom Casino Night at Anthology of Mason and Anthology of Simsbury was a hit with residents. The evening started with appetizers, live music and casino games and ended with the crowning of a king and queen.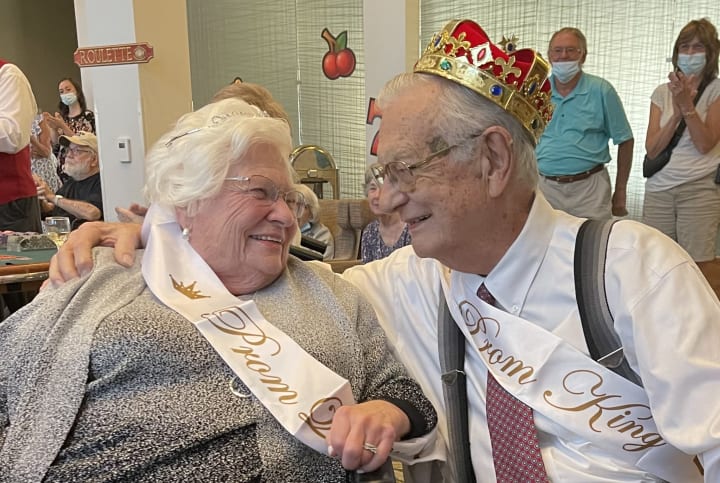 Anthology of Troy and Anthology of Burlington Creek both ended National Assisted Living Week with a night for all during their Casino Royale Party. Residents at Anthology of Troy reminisced about their adventures at the casinos, played roulette, slots and blackjack, enjoyed live entertainment by Kevin Wills and then ended the night with an aerial performance by the Detroit Circus. The community even raised more than $400 in raffle ticket sales that day, with all proceeds benefiting the Alzheimer's Association.
Casino Night at Anthology was a hit for all and an event to surely remember. These communities also captured some memorable moments from their Casino Night, showcasing what senior living really looks like and the positive benefits it provides.
Anthology of Denton, Anthology of Farmington Hills, Anthology of Meridian Hills and Anthology of Plano
Anthology of McCandless, Anthology of Town and Country and Anthology of Novi

About Anthology Senior Living
At Anthology Senior Living, we make it our top priority to offer a unique, supportive care environment for our residents and their families. Offering independent living, assisted living and memory care, Anthology creates spaces for building and nurturing relationships, provides dining options that are both nutritious and delicious, and fills up the daily calendar with the hobbies, crafts and activities that our residents most enjoy.
You or a loved one can be part of all the fun activities and events at an Anthology community near you! Anthology Senior Living communities provide an unmatched array of creative and social activities for seniors. In fact, creativity, fun and lifelong learning are woven into the fabric of Anthology life. For more information, contact us today!