Anthology Senior Living's response to COVID-19 / June 16
June 16, 2020​
To our residents and resident families:​
"Above the fold." Literally, it is the top of a newspaper's front page, where a headline will immediately catch the eye, even as the paper sits folded in half, waiting to be purchased. Figuratively, it is a story, an idea, or an ideal of such high rank that it must be kept top of mind. 
I would like to address what is above the fold in June 2020, literally and figuratively. I know we are all aware of headlines in the news. For Anthology, I believe, there is a common theme that goes beyond headlines.
First, I will share part of what I conveyed internally, in a separate letter to all our team, regarding recent events:  At a time of distress across our country, I want to affirm that at Anthology Senior Living, as a company and as a community, we cherish and draw strength from talented, dedicated individuals of every background. I have personally gained inspiration from all of you, who together maintain a safe, loving environment for those who live, work, and visit at our communities. It is you who have ensured that our communities are resilient—physically, emotionally, and spiritually. And it is this resilience that has carried us through.
I will pivot to another major story that remains top of mind. As our communities reopen, we are eager to gradually renew visiting, socializing, and enjoying activities from which we have refrained. We are looking forward to enjoying Father's Day, and other upcoming summer celebrations. Yet, we serve a population still at high risk for complications from COVID-19. 
At our communities, our team members remain vigilant. We continue our protocols for testing, screening, and other precautions. We ask that each of you, residents, and family, consider yourselves to be care partners, true members of our team. Remember to continue to social distance, wear face masks, sanitize your hands frequently, and to minimize going with loved ones on non-essential trips outside the community. Your actions will help protect not only yourself and your loved ones, but everyone at Anthology. To paraphrase a well-known saying, it takes a community. 
As I mentioned, within the stories that are top of mind in June 2020, I see a common theme for Anthology. As a company and as a community, we exist to care for one another's immeasurable humanity, dignity, and value. For us, the same headline introduces every story, whether above the fold, on page 16, on the op-ed page, or the Sunday supplement. Anthology is about creating a safe, loving, supportive home. Physically, emotionally, and spiritually. For all.
As always, if you have questions or concerns, please feel free to reach out directly to your community's Executive Director, or to our corporate team at  information@anthologyseniorliving.com.
Wishing you a happy Father's Day weekend. 
Sincerely,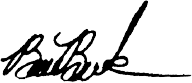 Benjamin Burke 
President, Anthology Senior Living