Anthology Senior Living's response to COVID-19 / May 26
May 26, 2020​
To our residents, resident families, and team members:​​
As the momentum for re-opening increases across our country, I would like to update you on Anthology's strategy to date as we gradually re-open with great care. We are balancing caution with guarded optimism, all within the framework of our paramount objective: to protect the health and wellbeing of all who live in and work at our communities. 
We are committed to proactively adopting best-in-class safety practices. To that end we have put a program in place to test all Anthology team members for COVID-19. The program has proved its worth by allowing us to isolate a small number of asymptomatic cases, to notify the respective communities, and to implement proper precautions. We will continue this testing program to provide early detection and prevention, and we are maintaining many of our previous safety protocols: in-room dining, daily screenings for fever and respiratory symptoms, hand-sanitizing, use of personal protective equipment, and use of telehealth services for non-emergency healthcare.
To help guide Anthology's infection control and testing protocols, we have brought on board an Infection Control Practitioner. With many years of expertise in the scientific, technological, and public health aspects of infection control, the expert will guide our ongoing efforts to protect our communities from effects of the COVID-19 pandemic.
On the immediate horizon, our phased plan is in process to gradually relax COVID-19 restrictions, exit from quarantine, and welcome limited visits from loved ones. I anticipate that the level and pace of re-opening will be tailored to each Anthology community based on their specific circumstances, and in accordance with local health department guidelines. I salute each of you—residents, families, and team members—for your devotion, vigilance, and understanding. You continue to inspire your communities along this unprecedented journey.
Our aspiration for each of you is to stay closely connected with loved ones through phone calls, video chats, and emails, which are a steady source of joy and comfort. We also want you to feel connected with your Anthology team and community. For any questions or concerns, please reach out directly to your community's Executive Director, or to our corporate team at information@anthologyseniorliving.com.
Before I finish this letter, I would like to reflect on this past Memorial Day. I am pleased to share with you this precious memory from Norma, a 96-year-old resident at our Anthology of Clayton View community:
Norma remembers celebrating with her grandmother as a child, when Memorial Day was known as Decoration Day. Norma's grandmother lost a nephew in the Civil War while marching with General Sherman, so Decoration Day was very special in her family. Norma remembers riding in the back seat of a 1930's Chevrolet surrounded by pink peonies in galvanized buckets. Her uncle would pick all the peonies from the yard to put on the soldiers' graves. Norma still has the letters written by her great, great cousin to his mother while fighting in the Civil War. He was 18 years old when he died.​
 Over the weekend, I thought of those residents, loved ones, and team members who have served in the United States armed forces. I want to take this opportunity to acknowledge you and thank you for your service. I am proud that you are part of our Anthology family.
Sincerely,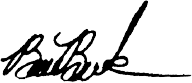 Benjamin Burke 
President, Anthology Senior Living 
NOTE: These guidelines apply to all Anthology Senior Living communities except Anthology of Tanglewood as the community is currently operating as an unlicensed 55+ community. Separate guidelines are in place for Anthology of Tanglewood.